CUSTOM PRODUCTION
We manufacture furniture according to your specifications. Often these are additions to existing furniture or pieces of individual size and wood selection as you need it but would not find it in a typical furniture store.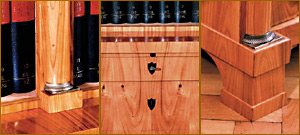 We make the modern pendant to your old heritage piece: this can e.g. be a table which is designed in a modern fashion but incorporates through the choice of wood and colour elements of the antique piece so that they build a harmonious combination.

We also make furniture just like the old originals: here we use traditional ways to connect wood and partially ancient materials like shellac and sawn veneer. Thus your "new" piece gets a real ancient character.